Supported Hardware
By default, micro-ROS uses NuttX RTOS. This RTOS has a big variety of supported MCUs and development boards. The next list shows some of them:
MicroChip PIC32MX Family
Atmel SAMA5Dx
STM32F1/2/3/4 and STM32L1/4, that includes many Nucleo board support.
Renesas M16C/26
NXP/Freescale i.MX1/6 and i.MX RT
Silicon Labs EFM32 Gecko and Giant Gecko
Please check this link to check the complete list and the status of each board. In case you are interested in porting new boards or MCUs, please check the next link.
Even though many development boards could be used, we have chosen two of them as references. This page lists the hardware platforms that we use to test and develop micro-ROS, and also accessories that we frequently refer to, such as add-on boards, and JTAG probes.
Reference Platforms
This section describes the main characteristic of the selected boards.
Olimex LTD STM32-E407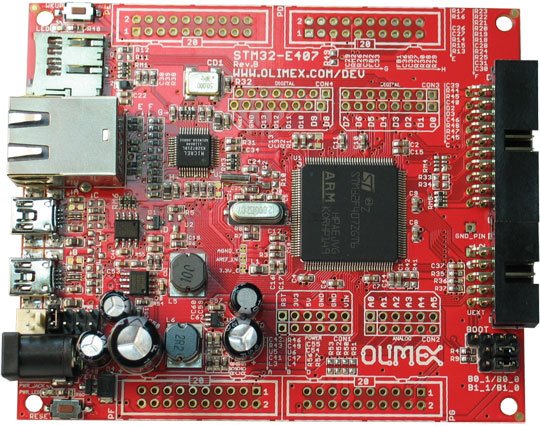 The Olimex LTD STM32-E407 is an open-hardware low-cost entry board for developing custom applications with the STM32F407ZGT6 Cortex-M4F microcontrollers from STMicroelectronics.
It contains 196KB of RAM and 1MB of Flash. It is a very complete board thanks to the wide variety of communication interfaces it offers: USB OTG, Ethernet, SD Card slot, SPI, CAN or I2C buses are exposed. The board contains various expansion options available: Arduino-like headers for attaching daughter boards, many pins exposed, as well as a UEXT connector. This connector is a custom pin-out bus and is used to attach sensor breakouts sensors that manufacturer sells.
Development tools
In order to flash and debug the board, it is required to get a JTAG probe. We recommend getting on of the next JTAG probes:
Resources
STM32L1 Discovery
The (STM32L1 Discovery Kit)[https://www.st.com/en/evaluation-tools/32l152cdiscovery.html] is an open hardware design, ultra low power and low-cost entry board for developing custom applications. It contains an STM32L152RCT6 Cortex-M3 microcontroller manufactured by ST Microelectronics. This part number contains 32KB of RAM and 256KB of flash memory. It also includes an ST-Link in-circuit debugger that allows flashing and debugging the target microcontroller.
Resources
---